Oscars 2020 is getting closer. And if you have not full idea about this event, then you will need to read this. The Oscars 2020 is going to be amazing to watch since there will be a lot of surprises that you may have never seen before. You will see such interesting movies from the big filmmakers such as Noah Baumbach, Scorsese, Quentin Tarantino, Greta Gerwig, Bong Joon Ho, and many more. Chances are you will see the nominations of which you do like the superstars. Here are the important things you must know before you proceed viewing the Oscars 2020.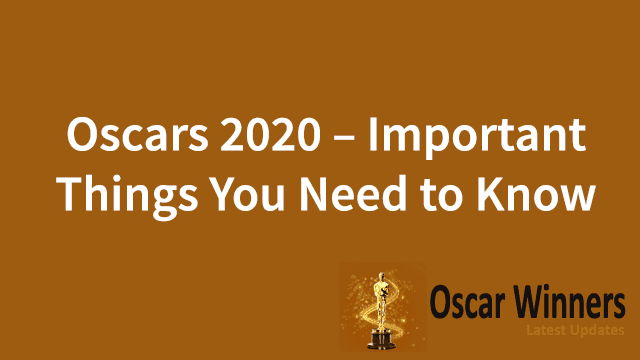 Oscars Host
One of the big questions revolving around the internet is about who is hosting the Oscars. The answer is simple and straightforward: No one. Just like last year, this event will not get any host. The officials have decided to stick with the absence of the main host. So, the mini hosts will replace the role of the main host.
The Date of the event
Of course, you will want to circle your calendar so that you won't miss the spectacular moments in the prestigious event. In this case, the event will take place on February 9. The officials have announced the Oscar nominations back then on January 13. There's an academy's decision to move the timeline because of few sensible reasons. Then the next Oscars which will happen on 2021 and 2022 will be pushed back to February, thanks to several events like the Super Bowl, federal holidays, as well as the Olympics.
Best Picture Nominations
One of the most important categories in Oscars 2020 festivity is the Best Picture. The category is happening bigger than before. In 2019 year, the world has been pampered with amazing movies. Here are the best Picture nominees that possibly bring the trophy in the Oscars night.
Marriage Story
1917
The Irishman
Jojo Rabbit
Once Upon a Time…in Hollywood
Parasite
Ford v Ferrari
Joker
Little Women
Have you watched all of them? If you haven't, pick your live streaming option now and watch the movies then decide which one is your favorite.
Also Check: 2020 Oscar Winners List
How to watch Oscars 2020 live online
ABC will broadcast the entire event in the US. Tune into ABC channel so that you won't miss the festivity. If you are cutting your cord, you could pick the live streaming option. The live streaming TV services that include the ABC channel are Hulu, YouTube TV, as well as AT&T Now.